You are here: Start » Complexity Levels
Complexity Levels
Introduction
FabImage Studio has three levels of feature complexity. At lower levels we hide advanced features and ones that may be confusing.
Available Levels
Basic – Designed for production engineers who want to quickly build simple machine vision projects without devoting much time to learning the full capabilities of the software.
Advanced – Designed for professional machine vision engineers who also implement challenging and complex projects.
Expert / Scientific – Gives access to experimental and scientific filters (tools), which are not recommended for typical machine vision applications, but might be useful for research purposes.
Changing Complexity Level
Complexity Level can be changed at any time. It can be done by clicking on the level name in the upper-right corner of FabImage Studio: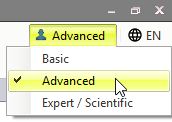 Complexity Level can also be changed in the application settings: